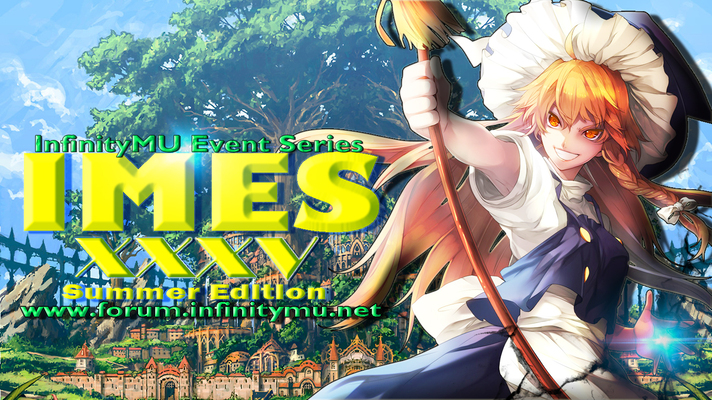 Infinity Mu Event Series XXXV - Summer Edition
Currently ongoing IMES - Summer Edition [click here] read more!
Read The Ultimate IMES Guide [click here]
Prizes for Spring IMES Season:
1st Place with the Highest IMES points:
Uber Set Full Option+13 by winner choice
Tier 2 Uber Sets will be available only if you win IMES twice in a row
IMES Winner tag

2nd in points ranking:
1 Uber Weapon by choice + accessory
3rd in points ranking:
1 Uber accessory + 40.000 Gold Credits
4th in points ranking:
35.000 Gold Credits
5th to 10th in points ranking:
25.000 Gold Credits
11th to 20th place in points ranking:
10.000 Gold Credits
Download and Install MU
1. Download InfinityMU - Click Here.
2. Install MU using the InfinityMU Installer.
Connecting to INFINITY MU
1. Sign Up.
2. Run InfinityMU icon from desktop or launcher from InfinityMU folder
Cob

[GTR]

-VIET*NAM-

Dzung

gwap1ng

Danzoy.

Ra!sAlGhul

Mixfusion

pagongsky

Obsession.
RICH

CHINGA

NAVY

x0UTLAWx

Senate

MidNight

LEONES

TeAmOnES

iMp3riAL

L4T1NOS